I wrote this first article on constructing a hosta garden for our old website after several customers told me I should summarize some of the thoughts I had as I took on a piece of history and created something new. As I wrote, I kept getting hung up on historical thoughts and questions that lacked answers. Reflecting back now, I think this will serve as background to the new hosta garden that we have begun at our new nursery. Neither garden will be the same but both will offer a tranquility and peace that is important to all garden visitors in this time of change.

George Africa

Winter 2008-9
BUILDING A HOSTA GARDEN
Breathing long sighs of both fatigue and relief, I sat back on the rough ground, pleased with the way the boulders were working into place. As I pushed myself back on the clay dirt, I carefully scanned for errant pieces of broken farm equipment… roofing or wall nails….shards of glass. …anything which might cause injury to my progress. I was dirty and dripping wet but I sensed accomplishment.
The strength of this garden-to-be was an actual barn foundation constructed more than a century ago of glacier-tumbled fieldstone and irregular granite blocks. I had walked the floor within the stone walls time and again trying to sort out where things would go. I uncovered the granite blocks which guided the main carrying beams upward. I purposefully left them in place, a permanent reminder to the geometry of the building.
I cleared tree roots from the front wall, straightened it, and leveled the dirt, front and back. Finally I turned over the dirt within the only obvious room, a south western facing room, 12X14 feet in size. Was it the milk room in a dairy barn or a tack room in a stable? Insufficient evidence for an answer. A contemplative question, a mystery, to leave with visitors...........…sort of a remembrance.
Building gardens offers a reward that's difficult to describe. Building this garden was especially important to me. I had procrastinated for several years, knowing full well that once started, the job would carry on for many years, perhaps as long as my health permitted. The foundation was historical of course but no one knew the history. I checked with passing travelers, especially those with graying hair or slow, deliberate gait, hoping that age might translate to reminiscence……to even a single piece of background from which to jump start a search. ……..but still I wait. So from the remains of a once stately building I began to work upon the building's remaining strengths, and a hosta garden was born!
People have a respect for age. In people it is perhaps an assumption of strong genes, perseverance and wisdom, but in other antiquities such as this foundation it is more just a respect for time and survival. Lacking documentation, the foundation's past remains animate only in our minds. The silver maple and the yellow birch each have noticeable girth. In circumference, the first is 54", the second, 87". They signify perseverance, survival, and strength.
The confines of the walls and the umbrella shading of the tree canopy encourage a garden. White and red baneberries, trillium, arisaemas…those Jack-in-the-pulpits kids love to open up and peer into, ………and hay scented, Christmas and maidenhair ferns.......they had already staked their claim on the dry floor bed.
Visitors regularly ask where the rocks came from and are surprised to find that they were here when we arrived. The accumulation of boulders up to three feet in diameter was astonishing. It obviously represents how intent some are at getting the heavyweights off their property. The foundation had become a dumping ground of sorts and part of the discard was boulders cast off by those in whom they saw no beauty. I disagreed ………
Aided by a 6 foot bar and some odd pieces of pipe, I began laying out the garden within the walls. I first pried the rocks away from the back wall and then, slightly off center, prepared an area for a preformed pond liner. It is surprising how large a boulder you can manage yourself with a bar and pipe rollers if you think it through first. I backfilled with course sand to protect the liner and topped it off with wheelbarrow loads of "my" mix—peat, decomposted manures, sand, lime, alfalfa and maple leaves chopped fine the preceding fall. Backfilling to the foundation wall and to a depth of almost 3 feet on one end became a chore that didn't seem to have an ending, but then again, 45 yards of compost is quite a pile, one wheelbarrow at a time!
From the back wall forward I dug individual holes for each plant and filled with the same soil mix. I dug each hole about 24" in diameter and equally as deep to insure some longevity to the organic mass. I also hoped that the mix would hold moisture for a while in between rains. I proved to be wrong on that assumption but what I did was a good start…………...and then I started planting.
People ask about the garden, where the design came from, who sorted out the color combinations, the textures and the scape heights. Some inquiries seem to rigorously search for a complicated method of design when in fact I just plant, that's right, I just plant. New gardens don't look good the first year anyway unless they are "television gardens". Real gardens are usually not planted with mature specimens and they require time to fill in. This particular garden was intended to mix cultivated and native plants worked around those that had already grabbed a foothold. In a few more years, the mix should be impressive. Gardens have messages and they need to speak to visitors. This garden is a great conversationalist.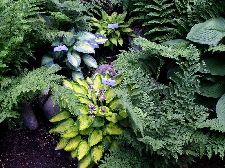 I have begun to define a number of little hideaways that focus attention on just three or four plants at a time and in so doing encourage discussion. This is not difficult to do but it takes patience to match the various dimensions. The little nook of 'June'-'On the Marc' and 'Just So' nestled among granite chips and overshadowed by ferns is such an example. It exudes a special peace while emphasizing the trio's individual qualities. Yes, this entire hosta garden is a peaceful place to visit. It converses calmly with its visitors. It cannot be copied but it can serve as a model. When you visit us, be sure to tour the garden...and who knows, you may find yourself building one of your own... as many visitors have!
ONE ROCK AT A TIME!