VERMONT FLOWER FARM
2263 US Route 2 Marshfield, Vermont 05658
Welcome to our new website and our new nursery location on US Route 2, just outside c.1786 Marshfield village. If you have visited us in the past, either in person on Peacham Pond Road or on-line, you know we are a family business that strives to be one of New England's nicest specialty nurseries--a treasure to find and enjoy!
Since 1992, Vermont Flower Farm has reached new garden dimensions by joining perennial astilbes, daylilies and hostas . Shade loving, Vermont-hardy companion plants including heucheras, tiarellas, ferns, actaeas, epimediums and ligularias compliment our favorites.
In 2006, we decided to move our business down from the mountain above Peacham Pond. We knew we would be challenging ourselves to recreate the beauty we built into our gardens over twenty years. The collection of display gardens, native natural granite and green schist stone work, the water and bog features, garden sculpture, benches, bird houses and bird baths had evolved into a tranquility that gardeners called their destination. There was a peace within those gardens that defied description. Part was a strange, reminiscent sense of antiquity within the old barn foundation shade garden; part was just the quiet of the birds and chipmunks, and the smells and colors of beautiful flowers.
Those kind thoughts have passed to our new location, new plants, new gardens and new designs. Five acres of pasture land bordering the Winooski River serve as the palette upon which we have created a personal invitation to all gardeners. We are very proud of the flowers we grow and the peace our gardens lend. Come tour with us....it's worth the trip--a place where we grow hardy plants for hardy Vermonters and their friends!
George, Gail and Alex Africa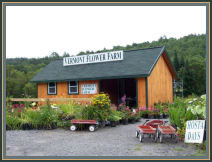 Our nursery is closed for the 2010 season. Many, many thanks for another great year! We take mail, phone and internet orders year round and are always available for questions at 1-802-426-3505. Prefer e-mail? Mail us at lilies@hughes.net
Gift certificates for birthdays, holidays and other special occasions are always available. Our certificates are 8.5 X 5.5 inch hand made cards with a picture from one of our gardens. We are happy to include any message you wish. Call us anytime.
We have begun to update this site with new plants and new information for the 2011 season. We always have surprises!
And very special thanks for being part of our successful garden journey through 2010. This was our 3d year at our "new" location.
Growing Hardy Plants for Hardy Vermonters and Their Friends!